There's an embarrassing story about me that lives on in our family lore. It's a story that always elicits laughter and sometimes a raised eyebrow. Forgive me if I've told you before. ?
But before I get into it, let me take you back to something that happened before.
About 6 Months Before IT Happened
Without naming names, I was both awestruck by the sheer bullshit? and psychological manipulation? going on at this 3-day event – and the amount of money that the hundreds of people in attendance paid to be there. As I sat there watching, I realized I could do this. Like, I could become a speaker and teach people business and marketing skills but sans fake, manipulative crap. I could be the No-Bullshit Business Bitch.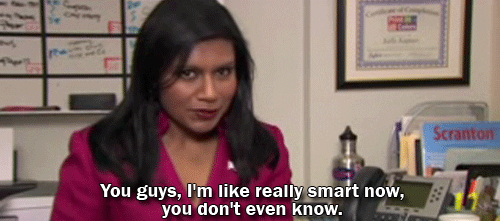 Seriously, I went home later feeling like speaking and teaching with authenticity and humility could actually be a part of my calling. But of course, like many seedlings of dreams do, the idea scared the shit out of me and I knew I wasn't ready yet. So aside from some cursory internet searches and fantasizing about my future, I didn't do much in pursuit of this career path. ?‍♀️
Fast forward 6 Months
About 6 months later, the economy is limping and I lose 90% of my client work within a few months. ? I'm desperately applying for jobs in my field and getting nowhere. I bite the bullet and take a job at Trader Joe's making $11/hour. Not only does the income not even come close to supporting me and my kids, but I feel buried in shame because my identity was so tied into me being an entrepreneur.
So two nights before we're to move out of our apartment and into a 10×10 bedroom in my mom's 2-bedroom apartment (with mom, her husband, and a 100 lb. German Shepherd), I feel a scratch in my throat. I can not miss work, so I get up in the middle of the night and feel my way to the bathroom where I pop a couple of chewable Airborne into my mouth. As I bump along down the hallway I trip over a garbage bag full of clothes. In the pitch dark, I feel my head bounce off the edge of the dresser teeth first. Stars are theonly thing I can see now.
I turn back and fumble my way to the bathroom where I spit out the chewable Airborne into my hand and find my front tooth mixed with half-chewed tablets. In my bathroom mirror, I see the strawberry blond halo of my frizzy curly bedhead and a gaping hole where my front tooth was sheared off at my gum line.?
This begins a thought spiral: I look like a homeless drug addict.* I'll never find a man now. I'm a failure in every possible way. Clearly, I was in a real good place mentally back then. So like any true wise woman, I begin to speak my truth out loud.
"I look like a crack whore!" I wail.
It's probably 3 AM and my twelve-year-old son and ten-year-old daughter wake up to their mom sobbing on the bathroom floor and wailing about being a crack whore whose life is basically over.
? Pro Tip: These are the exact kind of memories you want to be emblazoned on your children's psyches. ?
So, what's my damn point here? Why am I telling you another wild (though hilarious) story of loss? Because though I didn't know it then, the Universe, or God, or whatever you want to call it was basically setting me on a collision course with my life's mission which is, in essence: to get my shit together and then help other women get their shit together. (FYI, I don't know if any of us actually get ALL our shit together ever, but you get the idea.)
Looking back, I now see that I had to have the rug ripped out from under me to shock me into changing my path. To begin setting me on the course to living more purposefully. In the end, even though there was a whole saga with insurance, and money, shame, and whatever, 8 months later I finally got new front teeth. Ones that ended up being better than the originals. And as it turns out, a man did actually still love me and help take care of me and my kids while I went back to school, etc. for a few years. But that's also not the point.
? So here's my theory: I think we're at a massive moment of collective hurt and grief, but also of having our eyes pried open to both the tragic realities of our American life and to catalyze us all to step into our purposes.
At the end of 2019, I thought 2020 was a nice metaphor for having the clarity to act upon what we'd learned in years before. I was ready to step up in a big way. This was the year! ? Now I see that 2020 is giving us the clear-eyed view of reality and just what's at stake if we don't step the fuck up and live our lives to the fullest.
Right now we are tripping over the bullshit we've allowed to happen, we're banging our teeth on the dresser of consequences, and we're wailing on the floor of the bathroom mired in the pain of everything we have lost.
What happens next is up to us. Will we change our behaviors to save the planet, our children, the poor, the marginalized, our communities, ourselves? I'm willing to bet you're one of the good ones. You're feeling this too.
Before this makes you more overwhelmed with EVERYTHING, hold on. I will tell you something else I know from experience, the best way for you to begin helping THE WORLD is to work on healing and empowering yourself.
You have this dream, or mission, or purpose nagging at your for a reason. You were born for this. It's your duty to figure out what "it" is.
One gift of discomfort, loss, hurt, and grief is clarity. Listen to yourself. What are the things that break your heart? What are the issues that you keep circling back to?
For now, all I ask is that you listen. Stop pushing away this thing you feel drawn to do and just take a little time to sit with these ideas. Maybe write down your thoughts.
There's no impetus to act on this immediately. Just consider it. Imagine the possibility that life could be really good for you (and more of us) in this AFTER time. Consider that this massive pain and loss may be a clarion call for all of us to fully actualize, to pursue those callings we've been muffling for years.
But wait, there's more.
? Over the next few weeks, I'll be further exploring these ideas and more in a series of weekly emails about these changes we're experiencing and how to use them as power instead of paralysis in our lives.
Next week, I'll talk about timing, and how to know when the time is right to take action on changes, or whether it's better to hunker down for a while. I'll share a couple of stories from my life where I took different approaches in the hopes it will help you find your own clarity. Then the following week, I'll explore the idea of adaptation as well as some of the lies of the self-development industry. After that, I'll discuss how to get clear on what you want and then what kind of support you may need for your journey.
​
*P.S. To be clear, I truly don't want to discriminate against those who struggle with drugs, are homeless, or are sex workers. I have a lot of empathy for them. What I shared was a moment of weakness and vanity, and I hope you understand I share it precisely because it was such a ridiculous reaction on my part and only to poke fun at myself.
This post is part of the Power of Change series (originally an email series, but now here on the blog). To read the next post in the series, click here.
To my latest emails sign up for my email list.
/
0 Comments
/
by Andrea
https://andreaguevara.com/wp-content/uploads/2020/09/power-of-change-part1_-1.jpg
1000
1920
Andrea
https://andreaguevara.com/wp-content/uploads/2020/05/ANDREA-GUEVARAlogo.png
Andrea
2020-09-18 15:17:58
2020-11-10 21:51:38
Change Fosters More Personal Change