This Moment – It's all we have now

Today I watched my infant son for the first time in about 10 years. I'm in the process of converting old home videos over to DVD. Today I received a couple of my converted DVDs and I watched nearly 4 hours of home video this afternoon.  From my brother's eighth grade graduation to the birth of my first child and a little bit into his toddler years, it was a blast from the past.   Of course at first I was laughing at my brother's antics, then envious of how thin and tight my body was some 14 years ago.  Ha Ha.  But more than anything I was so blessed to see my little boy, sweet and toddling around, for the first time in over a decade.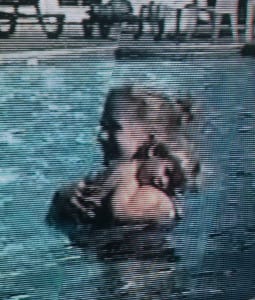 There was a segment where my son, my brother and I were playing in a pool. My son, a little over a year old, his head chock full of golden curls, ginormous brown eyes filled with curiosity, was not particularly fond of the cold pool water. My daughter said, "Mom, you look like you're my age!"
The moment though, that made me melt and prompted me to right this post, was when my son did something he hasn't done much in his teen years – something we moms treasure.  After flirting with the idea of getting back in the pool he finally came to me and I held him in my arms in the pool. And then, he looks up at me and lays his little head on my shoulder. His arms are tight around me and I gently rest my head on his and rub his back, a big, contented smile on my face. After a minute or so, with his head still on my shoulder he lets one of his arms go and waves it back and forth in the water. My mom (the camerawoman) zooms in on his sweet little face.  That moment was so fleeting, I don't even really remember it, but thanks to that video it's back in my heart.
Life is so fleeting, my friends. In our efforts to be better people and strive to live our dreams let's not forget to live fully in these moments we have right now, because once they are gone we can only reminisce.
 "We are always getting ready to live but never living."
Ralph Waldo Emerson
https://andreaguevara.com/wp-content/uploads/2017/03/qtq80-qpJORv.jpeg
1440
1686
Andrea
https://andreaguevara.com/wp-content/uploads/2020/05/ANDREA-GUEVARAlogo.png
Andrea
2013-03-29 19:49:00
2022-07-01 14:12:49
This Moment – It's all we have now