They Are Showing Us Who They Are

You know how they say "crisis creates character"? Well, I think "crisis reveals character." And the same can be said of brands. During this difficult time I'm sure you've seen ads and posts from different brands that have either been skillfully and respectfully made, or ads that are completely tone deaf, outdated, or just plain offensive.
So many of us are watching, or at the very least will likely remember, how brands acted during this time of crisis. The other day a colleague of mine who works for Hyundai, posted a press release sharing that Hyundai donated 65,000 COVID-19 tests and provided funding for 22 drive-thru testing locations nationwide. This is the kind of hands-on, well directed actions that lead to people associating good feelings with the Hyundai brand for years to come. This is brand leadership.
You may have also noticed some of the bigger names in self development, business skills, etc. are offering free or discounted online courses which is…nice. I mean, it's always nice when folks with more than enough money give things away for free.
Then there's the other side, whether it's unfortunate timing of certain ad campaigns, to companies like Tawkify forgetting that they are still running dating ads one in my feed read, "Think you don't have time to date? You do. The best dating service for ambitious women." LOL, gave me a good laugh though.
And then there are the cases where brands seem to just be thoughtless or consumed with making profits from fear, for instance: the VIDA protective masks ad that came up on my Insta feed the other day on which users quickly pointed out in comments that not only were the masks being made in China (which isn't bad necessarily, it's just not a good look right now when people are trying to support local businesses) while their competitors were making them in the U.S., but also that they were more expensive than competitors and only donated 10% of their profits (keyword there–not price but profit) while their competitors were donating much more to first responders.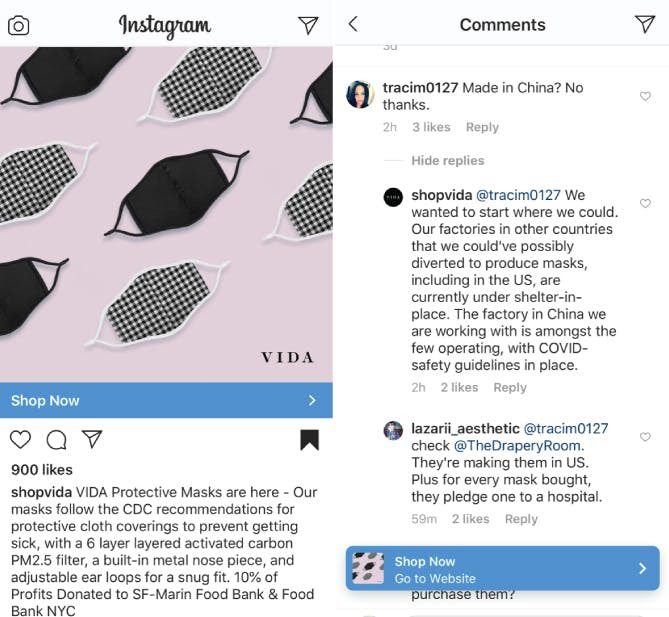 And then there are brands like Amazon, with their CEO Jeff Bezos trying to distract us by wanting to test all employees for COVID-19, while only a month ago senators were urging him to give workers sick leave and hazard pay, and employees had to demand the shutdown of a facility after multiple employees tested positive. Or how about his stunt where he donated a measly $100 million to U.S. food banks (when he has personally made an additional $24 billion just since the pandemic began)? To be clear, that's only 0.000416666666667% of only the money he's made during the pandemic–not counting the other over $100 billion in wealth he already had.
That's not a drop in a bucket, that's a molecule in a pool. 
Or how about this tactless email I received the other day from some entrepreneur I took a webinar with months ago?: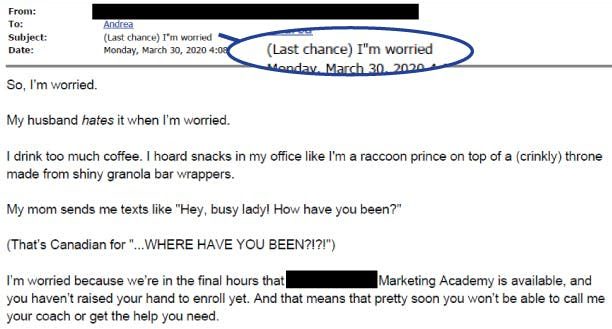 The point is, people are paying attention. More than ever, our emotions are engaged and we're going to remember the brands that showed us their true character, good, bad, and ugly.
But it's also good for us to keep in mind with our own brands.
I've been trying to filter every communication I make via my brands through a sensitivity to the very real emotions and stresses people have. I aim to be respectful and conscious in how I serve you. That's why I've been keeping my emails primarily focused on being a source of positive messages, reflection, and hope.
In the meantime, I've also been working on different new offerings I've never offered before because I've been trying to develop tools that people need more than ever.  After this many years in business, I've realized that some of the things I've learned will be of service to others now more than ever. But this is tricky. There's a balance to strike between helping, making ends meet and being seen as someone capitalizing on a disaster.
Unfortunately, I'm not in a position to offer my services or products for free, but I am working on offering smaller, more focused offerings that are more affordable if people need help with say, just one focused thing–like how to set up their email marketing, or put together a simple website, or how to start their writing career, or leverage LinkedIn better, etc. Anyway, I'll share more as I get closer to having these resources available as well as how I make decisions moving forward to help my communities.
I hope you'll also take this opportunity to think about how your brand will be perceived but also balance that with the reality of what you can afford to do (it's okay to put your family's survival first right now) and what unique ways you may be able to help others.
In any case, as ever, I wish you the best in life and work and hope that you are safe and healthy. We're in this together.
https://andreaguevara.com/wp-content/uploads/2020/04/Woman-on-laptop-.jpg
1000
1920
MacKenzie
https://andreaguevara.com/wp-content/uploads/2020/05/ANDREA-GUEVARAlogo.png
MacKenzie
2020-04-17 20:33:39
2022-07-01 14:08:06
They Are Showing Us Who They Are